Venez participer au premier Colin-Maillard de Pâques !
Ce matin, un lapin… au musée du chocolat !
Love, love, love… pour la Saint-Valentin. (more…)
BRRRrrrr, il fait froid, si on faisait un bonhomme de NEIGE !
Le 14 décembre 2016 à 16h, venez rencontrer les auteurs pour dédicacer la BD Les fondus de Chocolat !
Découvrez également la BD format GIGA pour encore plus de rires !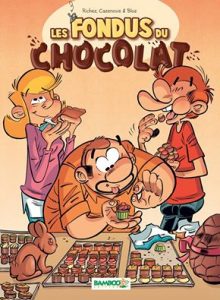 Pour cette fin d'année, nous vous proposons de participer à nos ateliers de NOEL !
Le Musée Gourmand du Chocolat vous permet de réaliser vous même VOTRE calendrier de l'avent !
Pour un HALLOWEEN gourmand, emmenez vos "petits monstres" créer leurs chocolats au Musée Gourmand du Chocolat !
Un nouveau défi du Chocolatier Jean Luc Decluzeau, reproduire la grande dame d'après les plans de l'Exposition Universelle de 1900. Plus de 350 kg de chocolat noir, 280 mètres de poutres et poutrelles… (more…)
A l'image des célèbres « Walk of Fame » d'Hollywood et de Cannes, le Musée Gourmand du Chocolat ne s'arrête pas là et lance un nouveau concept, le « Wall of Fame Choco-story ».